North of Nämdö we have Aspö and Ladholmen. They do not really belong to the parish, but the islanders have always had a strong connection with Nämdö. There are a few permanent households, and many weekend cottages.
On Idöborg, in the old wholesale mansion, there is a conference center. The house was built by shoemaker Pott in the early 1900's.
Rågskär has very old and genuine crofts. No electricity.
Follow this link for more information: Rågskär
In the outer parts of the Nämdö archipelago, there are several separated areas that all are preserves; Bullerö- , Långviksskärs- and Biskopsö archipelagos. The preserves are conducted by Skärgårdsstiftelsen. Supervisors maintain the land, handle the garbage, guide the guests. On Bullerö there is a "Naturum", an exhibition about the archipelago. from old times to nowadays. There is also a guesthouse where accommodation can be rented.
Boskapsö, Skogavik, Jungfruskär and Grönskär are also preserves conducted by Skärgårdsstiftelsen. These are popular among people with recreational boats and have lots of natural harbors. Grazing animals from Östanviks Farm are shipped out to these islands during the summertime.
The larger islands closer to Nämdö; Orrö, Uvö, Mörtö and Ekholmen, have several permanent households. Orrö and Ekholmen, are rather crowded with weekend cottages, but on Mörtö and Uvö there are large untouched areas to walk in. Just as on Nämdö there is an interesting geology and a flora that is typical for the lime-rich ground, with lots of orchids.
Bullerö harbor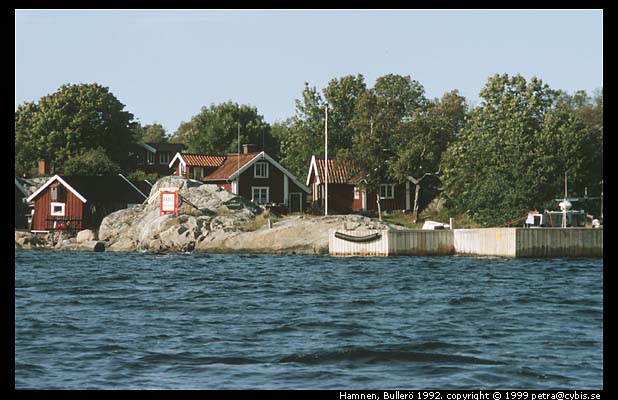 Bullerö: